BEER: Is there any problem it can't solve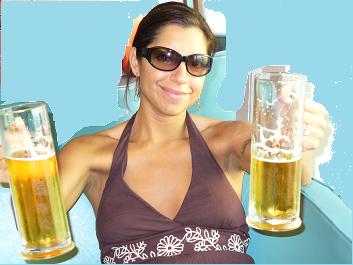 Beer - an alcoholic beverage made by brewing and fermentation from cereals, usually malted barley, and flavored with hops and the like for a slightly bitter taste.
It sounds so simple by definition; however if you have ever put a frosty brew up to your lips… you would know that there is so much more to this beverage we call beer.
Beer is complex, but not complicated. It's there in the good times and in the bad. It refreshes us in the summer months with its hops and keeps us warm with a hug of malty goodness in the winter. Flavors that is unmatched from a rich coffee stout to a smooth full body hoppy finish.
Ben Franklin once said, "Beer is proof that God loves us and wants us to be happy." I am happy and I'm happy with the vast beers we have to select from. Hundreds of thousands of beers to sip and savor over good conversation that just gets better with each next pint.
"He who hates beer, isn't living life to the fullest or living life at all." by Kris B.
Try Some of my Favs or See Beers I Just Tried
"When I read about the evils of drinking, I gave up reading."